What We Do
Clarifying the definition of Wealth Management
If you ask ten "wealth managers" to define wealth management, you'll almost definitely get ten different answers, and most are likely to be heavily focused on investing. As a client of Bond Financial, you will benefit from a cutting edge team that has a clear and comprehensive vision of wealth management.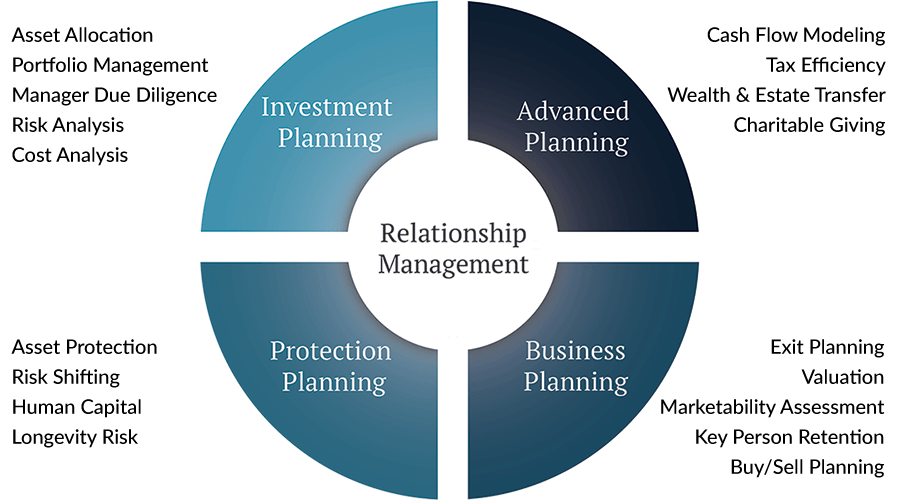 Investment Planning
Astute INVESTMENT PLANNING requires us to deeply understand each family's most important challenges and to then design investment strategies that take into account the family's time horizons and tolerance for risk. It also requires that we review not only our clients' portfolios but also their financial lives on a regular basis so that we can make adjustments to the investment strategies as needed.
ADVANCED PLANNING
The second element of wealth management, ADVANCED PLANNING, examines and manages all the issues beyond investments that are important to the financial lives of successful families. We place these issues into four major categories:
1. WEALTH ENHANCEMENT: mitigating your tax burden and maximizing cash flow
2. WEALTH TRANSFER: taking care of your heirs
3. WEALTH PROTECTION: taking care of what matters most to you
4. CHARITABLE GIVING: making a difference in the world
In our experience, very few financial advisors address these four concerns in any systematic, comprehensive manner.
Protection Planning
Adequate PROTECTION PLANNING means doing what you can to protect those you care the most about and what you've worked so hard to build. Using appropriate risk shifting and asset protection strategies can help your plan come to completion, regardless of what life throws at you.
Business Planning
Many of our clients have worked hard as entrepreneurs to build their business into one of their most valuable assets. Through thoughtful BUSINESS PLANNING we will help you find ways to protect that asset and ensure its viability well into the future.
RELATIONSHIP MANAGEMENT
RELATIONSHIP MANAGEMENT is the final aspect of wealth management. To effectively address our clients' range of overlapping, frequently complex financial concerns, we build relationships within three groups.
The first is our clients. It is only through solid, trusted client relationships that we can fully understand and help manage our clients' needs effectively over time. This is the heart of successful wealth management.
Second, we have developed and maintain a network of other professionals we can call in on a case-by-case basis to help address specific client needs.
Finally, we pride ourselves on working effectively with our clients' other professional advisors, such as attorneys and accountants. This collaborative approach leverages those advisors' knowledge of the clients' financial challenges while helping to provide an integrated, holistic approach to their finances.
Through our work in each of these areas – investment consulting, advanced planning, protection planning, business planning, and relationship management – we can help you make informed decisions about every aspect of your family's financial life.
Neither New York Life Insurance Company, nor its agents, provides tax, legal, or accounting advice. Please consult your own tax, legal, or accounting professional before making any decisions.